Native TSYS Acquiring Solutions (formerly Vital) Processor Support: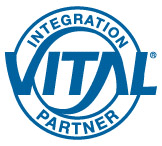 .netCHARGE is certified with TSYS Acquiring Solutions (formerly known as Vital, formerly known as VisaNet) for direct transaction processing. One of the largest merchant providers in the world, Vital began as a partnership between Visa USA and TSYS as they joined forces to launch an independent company that offered end-to-end, commerce-enabling services to acquirers. Visa merged its premiere VisaNet authorization and data capture network with TSYS' leading Clearing and Settlement system for the backbone, and Vital Processing Services was born. http://www.vitalps.com/

About TSYS Acquiring Solutions TSYS Acquiring Solutions is the preeminent supplier of acquiring solutions, related systems and integrated support services to the acquiring industry and its customers. TSYS Acquiring Solutions delivers comprehensive solutions and support that securely and reliably process billions of credit and debit transactions every year. From authorization and capture services to the clearing and settling of merchant transactions, critical customer support functions and information management services, TSYS Acquiring Solutions helps acquirers effectively manage and grow their merchant portfolios. TSYS Acquiring Solutions is a wholly owned TSYS® (NYSE: TSS) subsidiary. Additional information about TSYS Acquiring Solutions can be found at http://www.tsysacquiring.com
.netCHARGE provides much more than technical integration, advanced batch management and transaction syncronization logic enables this advanced processor to be used as simply as the other gateways and processors supported by .netCHARGE.
Advanced Transaction Logging:
When working with a native processor, maintaining logs of your transactions is critical. .netCHARGE provides a native database logging system which works against Access and SQL server. Complete transaction details are logged and credit card details automatically encrypted before being stored.
Automatic Batch Handling:
Batch management can be difficult and result in missing or unsettled funds. .netCHARGE provides advanced automated batch handling to ensure batches are settled as required. For low volume merchants an special per transaction batch implementation settles each transaction automatically in its own batch. For higher volume users batches can be set to automatically occur on a timed basis (every 4 hours for example) or based on the number of transactions (every 500 transactions).netCHARGE automatically settles batches when required and creates a new batch for future transactions to be added. You can even setup the batch handling to work with both time and transaction limits, for example, settle your batch every 24 hours or 1000 transactions, whichever comes first.
Intelisync Transaction Processing:
At .netCHARGE we recognize that high use stateless environments require advanced logic for synchronization and transaction processing. Mission critical system with multi-processor systems and redundant network interfaces can lead to concurrency issues. .netCHARGE eloquently handles such cases and has been load tested on such architectures with hundreds of thousands of transactions per day.
Simple Ease of Use:
For all the technical implementation, .netCHARGE remains simple to use even with its advanced native Vital processor integration. As with all processors and gateways .netCHARGE provides a common set of properties and methods, set your account details, the card holders information and run the charge method - .netCHARGE does the rest! You can be processing native TSYS Acquiring Solutions (Vital) transactions through ASP.NET in minutes!